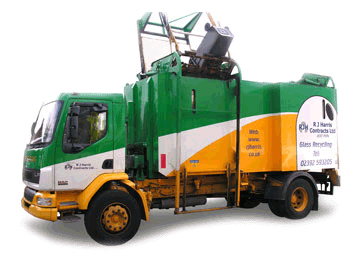 The glass can be sold so why can't we have a 'free' mixed glass collection and recycling service?
There is a minimal 'open market value' for the glass collected. We receive a very small handling fee, which only covers the cost of local temporary storage and transfer of the bulk glass.

Reasonable by comparison, our collection charge includes free delivery and supply of wheeled bins, most are 240 litre bins, special purpose collection vehicles, wages, fuel, administration etc.

Why I am paying to recycle?
There should be an overall cost benefit to your business by reducing the volume and thus the cost of your general Trade & Commercial Waste Disposal charges.
Since 2004 thousands of businesses premises especially the licensed, hospitality and leisure trade have signed into our scheme and have noticed the benefit.

There is also an important environmental and waste minimisation benefit:
| | |
| --- | --- |
| | Reducing the amount of virgin materials and minerals extracted from the ground. |
| | Re-using Recycled Glass reduces energy consumption co2 and carbon greenhouse gas emissions in the process of smelting down of less virgin raw materials to make new glass bottles and jars. |
| | Recycled Mixed Glass requires much less energy to re-process into new bottle glass. This 'closed loop' process can be repeated many times. Just one wheeled 240 litre bin can hold up to 80 kilograms of waste mixed glass bottles. |